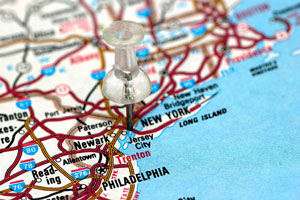 New York City is perhaps the United States' most high profile city, and is known as both a national and international center for finance, business, commerce, culture, art, and fashion. The largest city in the United States and the fourth largest city in the world, New York City comprises five boroughs covering 309 square miles; it is home to approximately eight million people, making it the fourth most densely populated city in the world, after Tokyo, Mexico City, and Sao Paulo.
New York City Metro Area Map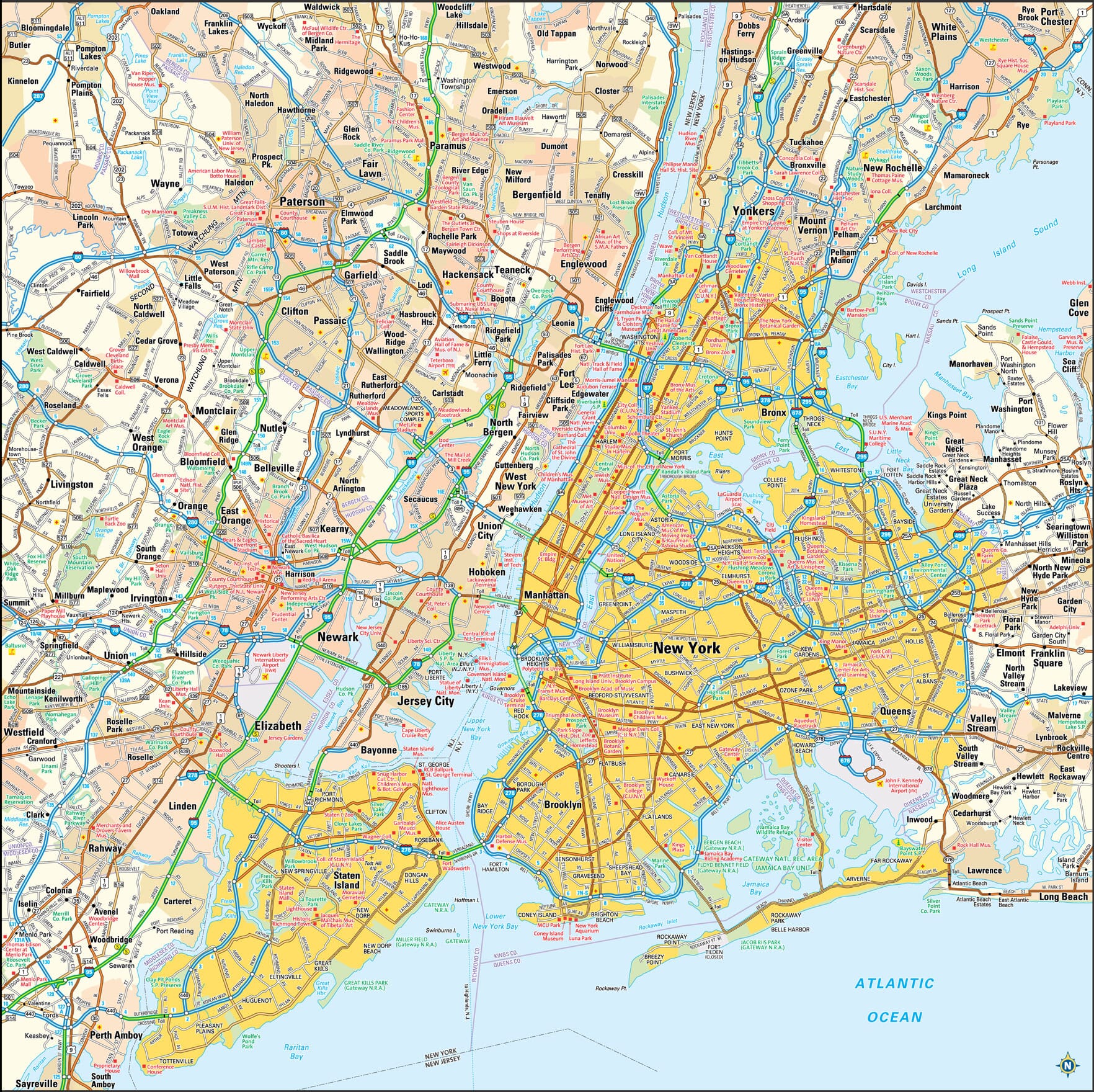 Downtown New York City Street Map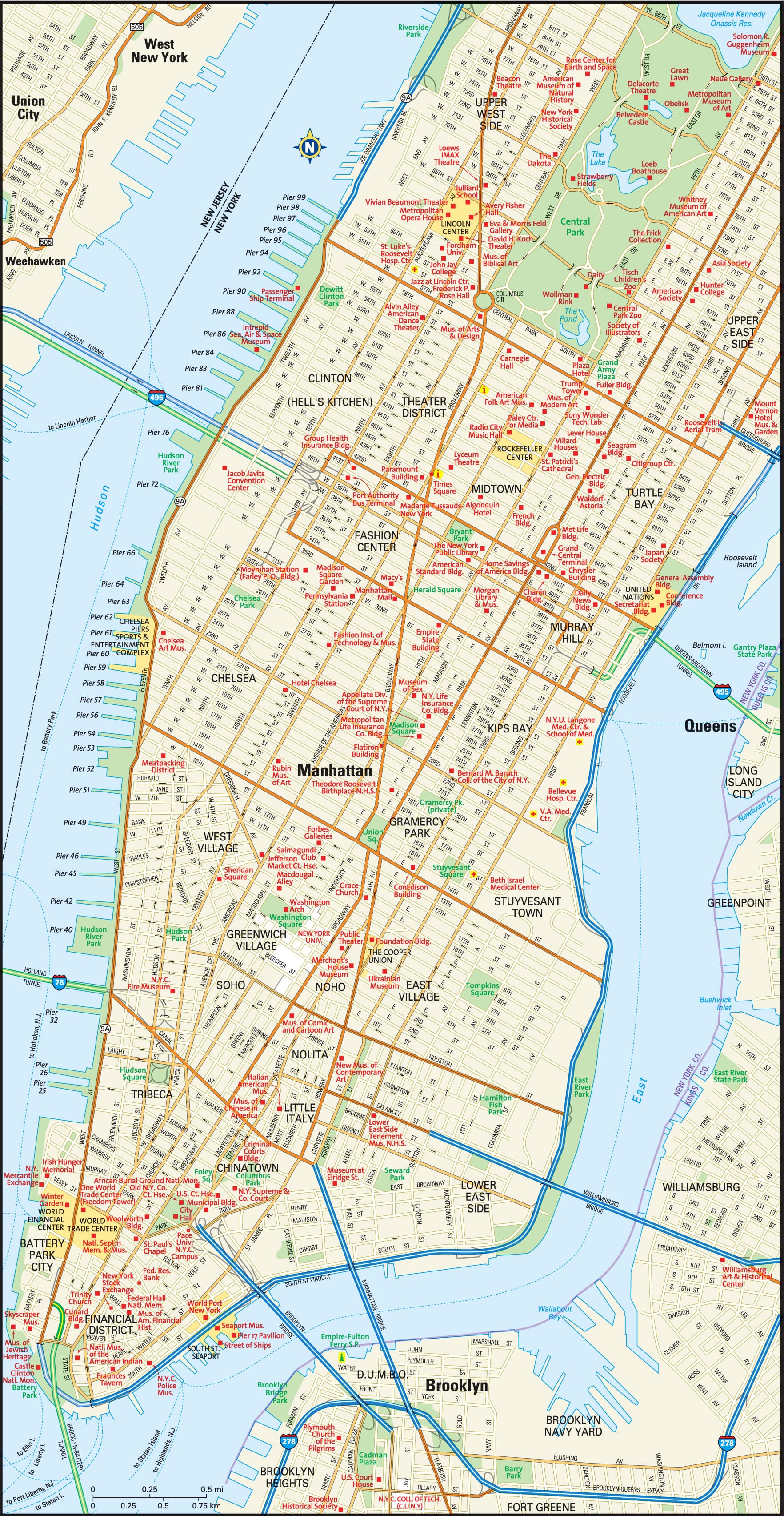 Located in southeastern New York State, just east of New Jersey, New York City is one of the most culturally and ethnically diverse cities in the world, and has been ever since 1640, when the first significant flood of immigrants entered the United States via the city's harbor and decided to call the city home. The Statue of Liberty, a gift from France to the United States in 1884, welcomes the diverse throngs who come to the United States in search of a better life.
The boroughs that make up New York City include Manhattan, Staten Island, the Bronx, Brooklyn, and Queens. However, most natives who refer to "the city" or "New York City" are speaking specifically of Manhattan. Manhattan, though it is only 10 miles long and two miles wide, is the hub of the city, and is home to the majority of the area's financial, commercial, and entertainment centers. The financial district is located in lower Manhattan, while the majority of media businesses and shopping are located in Midtown. Ethnic centers such as Chinatown and Koreatown, as well as cultural areas such as Greenwich and Soho, are located in between. The renowned Times Square and theatre district are located just west of Midtown. Central Park provides respite from the hustle and bustle of the city, and those looking for additional recreational outlets can find them at the nearby Long Island beaches, in the Poconos, or at the Jersey Shore.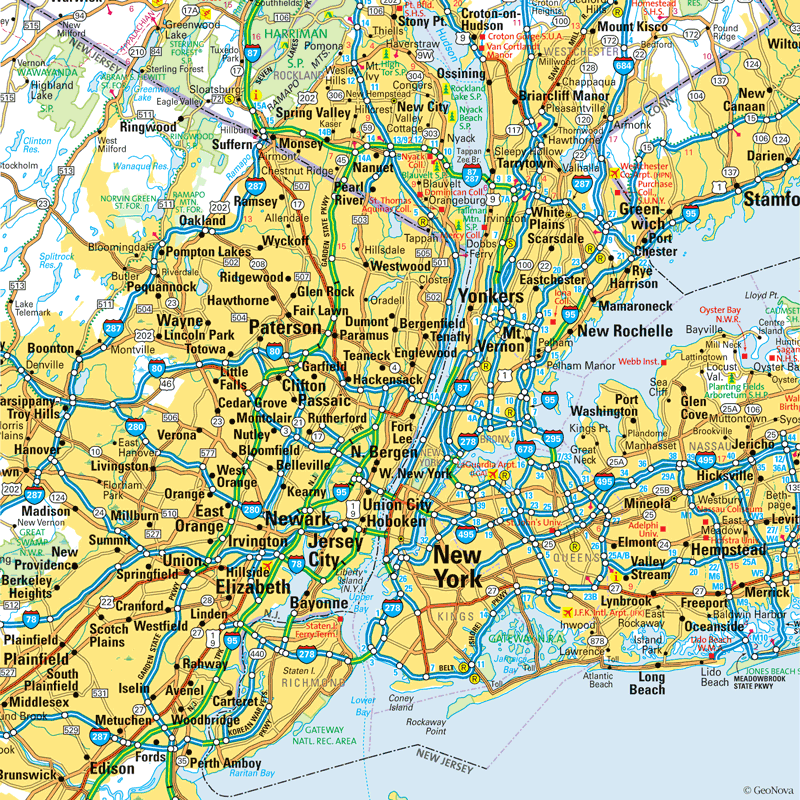 The Hudson River runs south into the Upper Bay, between Manhattan and New Jersey. The East River also flows into the Upper Bay, arriving there after passing underneath the Brooklyn Bridge. The bay eventually becomes the Lower Bay where Brooklyn and Staten Island are closest, and eventually merges into the Atlantic Ocean.
Aside from Greenwich Village and other older areas, the city is laid out in an organized avenue and street grid that was developed in 1811. New York City is easily reached by rail, bus, and airplane; within the city, residents, commuters, and visitors can navigate via automobile, taxi, and subway.
New York City Information Directory
In-depth New York City information and news can be found on these regional New York City Libraries and New York City Newspaper Publishers pages, respectively. Visitors to New York City will find this New York City Travel and Tourism website useful.
---
Copyright © 2009-2021 New-York-City-Map.com.
All rights reserved.
About us
.
New York City Map - New York City Guide